Spring should be springing any second now, and we're frantically trying to figure out where to allocate our precious shopping dollars. Of the seemingly endless selection of new trends, which is going to deliver the highest ROI? Ultimately, you're going to want things that give you the highest level of personal satisfaction, and dare we say, happiness. A great shopping score is an endorphin rush, after all, and we all want to make purchasing decisions that will keep the warm-and-fuzzies going for as long as possible.
Bearing this in mind, we turned to a constant source of inspiration: street style. We combed through our international fashion month coverage and analyzed all of our favorite IRL looks from spring; ranking them in order of positive vibes, from a state of relaxed comfort to absolute nirvana. While we can't promise eternal happiness from any of these purchases, but hopefully examining this plethora of personal style brings a smile to your face and some inspiration to your shopping carts.
At Refinery29, we're here to help you navigate this overwhelming world of stuff. All of our market picks are independently selected and curated by the editorial team. If you buy something we link to on our site, Refinery29 may earn commission.
The Positive Vibe: Comfortable
The Trend: The Air Down There
The baseline for happiness is physical comfort, wouldn't you say? (Seriously — would you? It's quite the philosophical question.) We saw a lot of influencers and street-style stars choosing loose trousers over constricting ones, putting us on the hunt for wide-legged and palazzo styles that will skim the floor with a satisfying swish.
The Positive Vibe: Calm
The Trend: A Utility Jumpsuit
Imagine the feeling of looking put-together almost instantaneously. With a single motion — and garment — you've got your look for the day. Bonus: said look is simply covered in pockets, and all of your gewgaws are at the ready, instead of swimming around in your black hole of a handbag. How do you feel? Calm, thanks to your utility-inspired jumpsuit.
The Positive Vibe: Supported
The Trend: Waist-Cinching Belts
Belts have gone from crucial keep-your-pants-up component to significant style accent. You may not need a belt to hold up trousers anymore, but you want one to create waistline definition — and this spring's wraparound, corset, and bustier belts are here to support you in that endeavor.
The Positive Vibe: Optimistic
The Trend: Tinted Sunnies
Forgive us for falling back on an obvious trope, but how could we round up happy trends without the mention of rose-colored glasses? Tamu McPherson's pink-tinted eyewear is a nod to a sunny, glass-half-full outlook.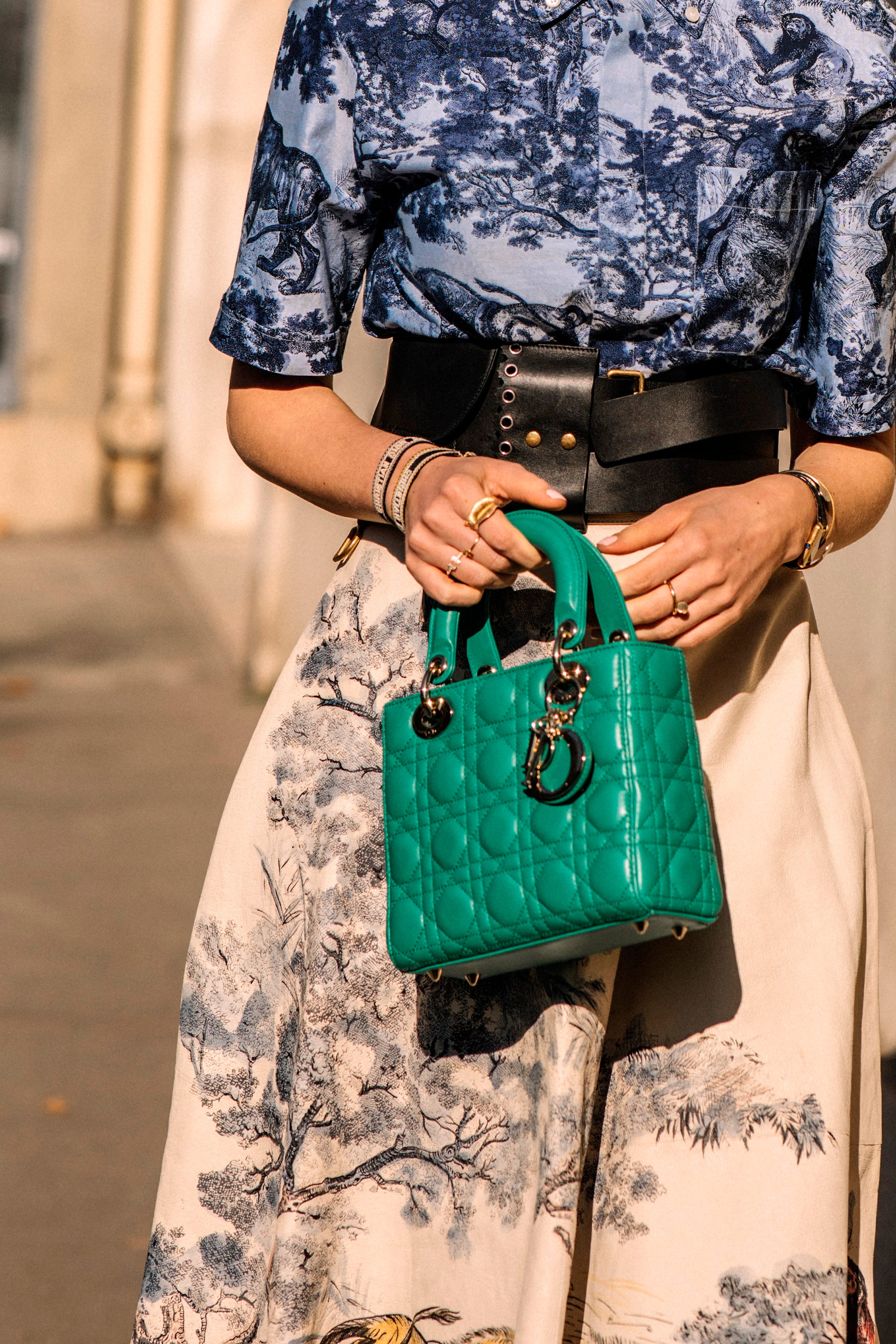 The Positive Vibe: Delighted
The Trend: A Colorful, Mini Bag
TFW you lay eyes on an itty-bitty version of a familiar item? Delight! There's nothing like the sight of a tiny handbag in a brighter-than-bright shade to set your endorphins a-flutter. Channel this sun-kissed street styler and nab a miniature bold-hued purse to tote around all spring long.
The Positive: Festive
The Trend: Tulle, Glorious Tulle
Nothing says "festive" like a sheer tulle garment — with something underneath it, of course. Eva Chen's peekaboo red "coat" is ready to party, and we're here for it.
The Positive Vibe: Extroverted
The Trend: More Flounce to the Ounce
We saw layers and layers of conversation-starting sleeve fabric all over the streets for spring.
The Positive Vibe: Enlightened
The Trend: Neutrals
We're being entirely tongue-in-cheek here, friends — fashion is never going to bring you enlightenment in the religious sense. (Believe us, we've tried.) However, this street-styler's statuesque head-to-toe neutral look — and stone-carved matching backdrop — is serving up enough visual tranquility to nudge us towards sartorial nirvana.
Like what you see? How about some more R29 goodness, right here?
The Best Under-$150 Buys Of The Month
We Asked R29ers About Their Comfiest Bras & Here's The Scoop
April Is Here & The Discounts Are No Joke — See R29's Editors' Weekly Sale Picks